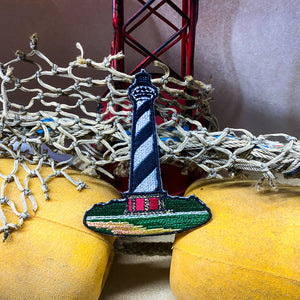 Cape Hatteras Lighthouse Patch
$1000

$10.00

Save $6
Tax included.
---
---
✨✨✨✨DROP ANNOUNCEMENT✨✨✨✨
The lighthouse series from NTE is back - and back with a highly requested lighthouse, Cape Hatteras!
"The Cape Hatteras Lighthouse protects one of the most hazardous sections of the Atlantic Coast. Offshore of Cape Hatteras, the Gulf Stream collides with the Virginia Drift, a branch of the Labrador Current from Canada. This current forces southbound ships into a dangerous twelve-mile long sandbar called Diamond Shoals. Hundreds and possibly thousands of shipwrecks in this area have given it the reputation as the Graveyard of the Atlantic."
I'm happy to present another installment in the series and hope you all enjoy this patch!
This will be dropping Saturday 7/31 at 8pm EST on the website - LINK at bottom of post.
• Limited to 50 made
• Limit X3
• $16ea plus shipping
nottheendadventures.com