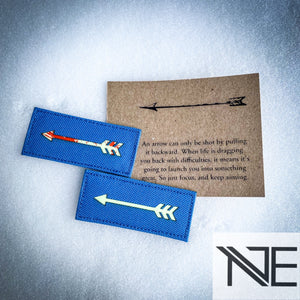 Arrow of Encouragement V1 (NOT blood splatter..)
$1700

$17.00
Tax included.
---
---
This is for the blue and glow arrow ONLY NOT blood splatter...
🏹🏹🏹🏹DROP ANNOUNCEMENT🏹🏹🏹🏹
Ever have one of those weeks where life just drags you down?
Was one of those this week for me...but as the weekend approached things started looking better!
"An arrow can only be shot by pulling it backward. When life is dragging you back with difficulties, it means it's going to launch you into something great. So just focus and keep aiming"
Arrow of Encouragement V1 will be dropping tomorrow, Saturday 2/13 at 8pm EST on the website.
• 30 made of the blue and glow, VERY limited amount of the blood splatter arrows will be available too
• $17ea plus shipping
• Limit x3
• American Made, in house..
nottheendadventures.com